Transportation Committee Members And Functions
Updated: August 1, 2018
Established:  November 2006
Membership:
Chair: Susan Harvey
Vice-Chair: Stephen Deutschman
Members: Mike Birdsall (non-GMVUAC member), Lorraine Blacklock, Hendrick Haynes, Warren Iverson, Sue Neuner, and Peter Rimbos
Mission: Investigate the area's transportation problems and offer potential path towards mitigation. Review local transportation plans, Transportation Needs Reports, county transportation budget, road priorities, and concurrency travel sheds. Jointly lead the Joint Transportation Initiative (JTI) with other Unincorporated Area Councils (UACs).
Major Activities: The Committee founded and leads the JTI, which combines members from the four King County Rural Area UACs: GMVUAC, FCUAC, UBCUAC, and GV/LHA. The JTI addresses broad King County transportation issues, policies, and plans. The JTI has conducted research and prepared and submitted detailed Public Comment on the Puget Sound Regional Council's (PSRC) Transportation 2040 in 2014 PSRC Transportation 2040 COMMENTS and its major 4-yr update, Regional Transportation Plan (RTP) in 2018 PSRC RTP COMMENTS. Committee research directly supported the following Area Council correspondence: Transportation Concurrency Update; Covington Master Planned Development; Speed Limit Recommendations; 276th Avenue SE Closure.
Regional Summit Meetings: The JTI convened the Transportation Summit Meeting with State and Local government officials and agencies in September 2014. See the four Situation-Target-Proposals discussed: Usage-Funding Imbalance; Assessing-Requirements-Accurately; Concurrency-Adequacy; and Annexation-Debt-Transfer. The JTI also convened a Regional Transportation Meeting with the PSRC in October 2016.
Support Activities: The Committee supported the following Area Council efforts: King County Comprehensive Plan Updates; King County Code Amendments; and Black Diamond Master Planned Developments (MPDs).
The Black Diamond MPDs comprise a proposed total of 6,050 residences and 1.15M sq ft of commercial space. These two MPDs are expected to place a tremendous burden on the regional transportation infrastructure in SE King County and, as such, are of great importance to the JTI (see Mission above). We have followed the proposed MPDs from the first EIS Public Hearing in 2010 and have taken a great interest in the Traffic-Demand Modeling to predict traffic flows and the subsequent Traffic-Impact Analyses to determine possible mitigations needed to meet road/intersection Levels of Service. A wealth of information on the MPD Conditions of Approval and the development Agreements with the Master Developer (Oakpointe) can be found in Transportation Summary. Current transportation infrastructure being designed consists of two Roundabouts on SR-169–one at Issaquah-Hobart-Ravensdale-Black Diamond Rd and one at Roberts Dr (Auburn-Black Diamond Rd). Engineering design drawings for the two Roundabouts and their approaches and exits can be found at Roundabout Engineering Drawings [For more information on any of the foregoing matters, please visit our GMVUAC Correspondence page for GMVUAC Articles and Letters relating to this Committee.]
Results of the Issaquah-Hobart Rd Corridor Study, completed in February 2018 and published in March 2018, can be found from links on this City of Issaquah web page: Issaquah-Hobart Road / Front Street Corridor Study. The JTI will continue to work with City of Issaquah and King County officials in studying and seeking potential improvements along the full corridor.  In addition, the Washington State Department of Transportation is studying issues related to the I-90/Front Street Interchange.  To learn more about this project, please visit the following website: WSDOT I-90 / Front Street Study. GMVUAC will update information regarding this project as such becomes available.
The Committee conducted and completed a detailed inquiry into certain traffic and safety related issues concerning the 196th Ave SE corridor from SR-169 to SE 240th St.  The full Area Council reviewed the Transportation Committee's report on this issue, and approved and submitted a Situation-Target-Proposal (STP) to the KC Department of Transportation with recommendations as to certain improvements to this corridor that could be implemented to address and mitigate the safety issues of concern.  The STP was submitted to KCDOT on May 8, 2018, and may be viewed here: 196th Ave SE.
External Links: (see also King County and Links webpages):
King County (KC):
KC Department of Transportation (KCDOT)
KCDOT Transportation Needs Report (TNR)
KC Comprehensive Plan (KCCP)
KC Code
Countywide Planning Policies
Regional:
Puget Sound Regional Council (PSRC)
Transportation 2040
State (WA):
WA Department of Transportation (WSDOT): Department of Transportation (WSDOT)
Growth Management Act (GMA): Transportation Concurrency Goals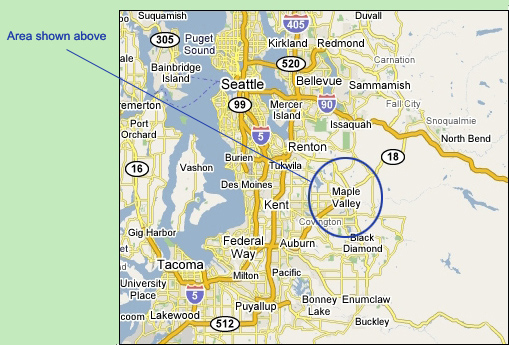 We serve the residents of unincorporated King County living in the Tahoma School District No. 409 (outside the city limits of Maple Valley -- below is a map of the GMVUAC Service Area and the four Community Areas):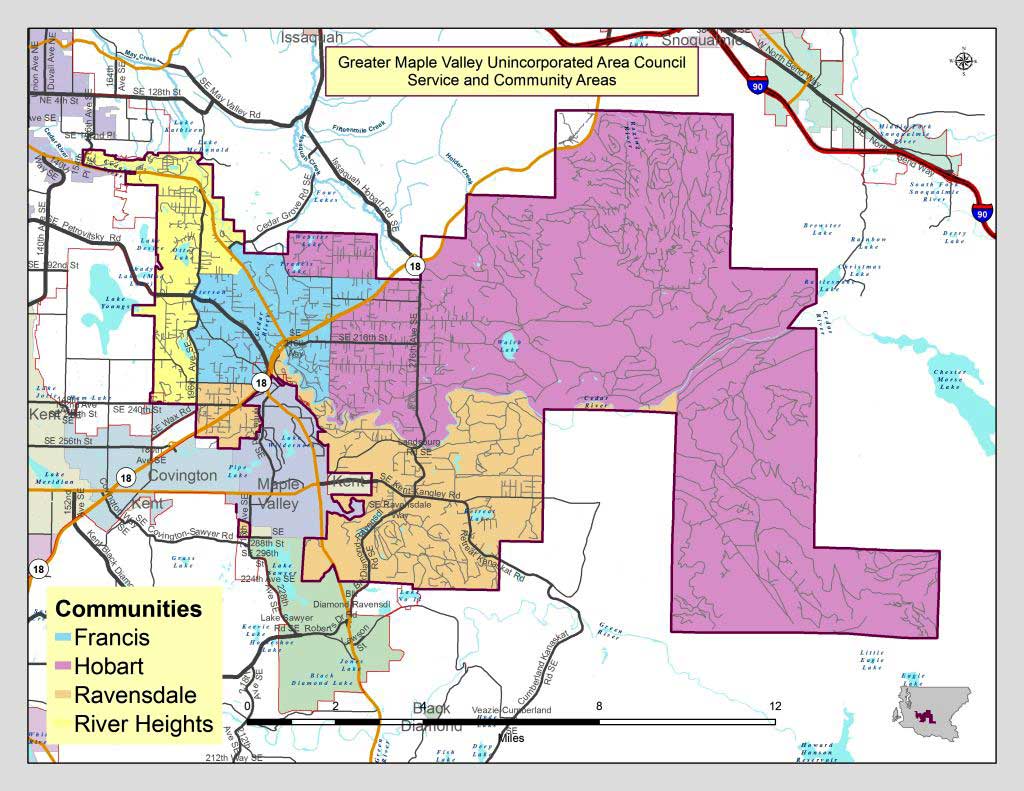 Service Area Stats
Established: 1977
Population: 16,100 (2010 Census)
Area: 116 sq mi