About GMVUAC
The Greater Maple Valley Unincorporated Area Council (GMVUAC) is a community council of volunteer citizens who reside in the unincorporated portion of Tahoma School District # 409. The GMVUAC represents and advocates with King County, state officials, and other organizations for the interests of the citizens of our unincorporated area. GMVUAC covers an area defined by the Tahoma School District No. 409, excluding any portions, which are or become incorporated (see Service Area Map).
The purposes of the GMVUAC are:
1. To contribute to the orderly development of greater Maple Valley, while maintaining the historic rural character;
2. To make and publish studies which promote and improve the community; and
3. To act as liaison for the community in providing area representation, comments and recommendations to county, state, and federal agencies.
The GMVUAC membership is comprised of representatives from four Community Areas. Each Community Area is entitled to four representatives who each occupy a position with a term of four years. The terms of the positions in each Community Area are staggered; in every odd year, the terms of two of the four positions in each area expire on December 31 and begin on January 1 of the following year. A member is qualified to serve on the Council if he or she is a registered voter in, and a resident of, the Community Area from which he or she is elected.
King County is the only local government that serves citizens living in unincorporated areas — those areas not included in cities such as Maple Valley or Black Diamond. Therefore, much of our efforts focus on ensuring that the County maintains its promise of limited growth in the zoned "Rural Area" (RA) where we live. Most of us want to continue to see the trees, small farms and animals, lack of street life, and limited traffic that we have lived with for years. Therefore, we examine in detail every proposed policy issue affecting the rural area with the intent of ensuring that our citizens' interests are represented in every venue that seeks to influence rural policies.
GMVUAC meets on the first Monday of each month (except on legal holidays) at the fire station at 231st St and SR-169 across from the sheriff's precinct. The public is invited to attend. Each meeting begins with an Open Comment period to allow the public to voice issues of concern. Knowledgeable speakers are invited to discuss topics of specific interest to rural unincorporated citizens.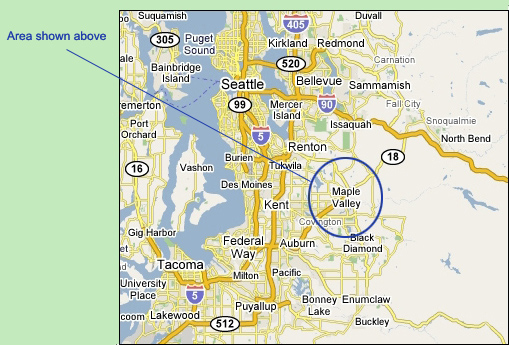 We serve those that live in the Tahoma School District, but not in the city limits of Maple Valley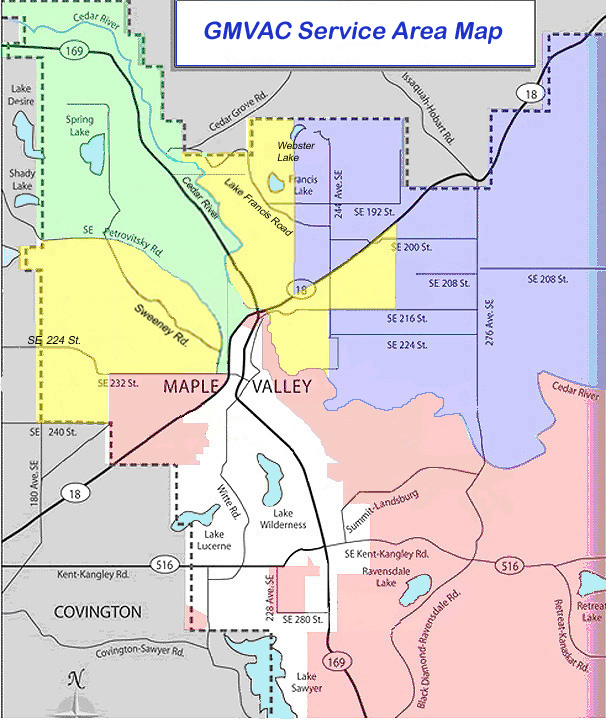 Service Area Stats
Established: 1978
Population: 16,100 (2010 Census)
Area: 116 sq mi