Updated Through September 20, 2023
Train Show Committee Members And Functions
Membership:
Chair: Steve Hiester
Members:  Larken Buchanan, Susan Harvey, Sue Neuner, John Huson (community resident), and Val Paganelli (community resident)
Mission:
Defines Council support requirements and recruits and implements activities necessary to conduct our annual Train Show at the Gracie Hansen Community Center in Ravensdale
NOTICE
The Annual Train Show sponsored by the GMVUAC is conducted annually on the third weekend of October and is open for all members of the public to attend.  However, PLEASE TAKE NOTE that by voluntarily entering this facility and Train Show exhibit that all individuals thereby consent and agree to their being individually and/or collectively photographed (either still or video) and their individual likenesses being displayed on or in association with the GMVUAC's official website with no compensation or rights reserved.  Read the Notice of Consent here:  GMVUAC Photography Consent Notice .  A shorter version flier advertising the 2022 Train Show for public posting and distribution may be viewed and downloaded here: Train Show Flier 2022 .  Any use of trademarks or tradenames should be acknowledged as appropriate in the following text.  Also please note that you may have to exit your browser after viewing the Train Show Video, as this is an external link.
214Maple Valley Operating Model Train Show
Gracie Hansen Community Center
27132 SE Ravensdale Way
Ravensdale, WA
Plenty of free parking!
The 2023 Train show is scheduled for October 21st and 22nd
Saturday 10:00 AM – 5:00 PM
Sunday 10:00 AM – 4:00 PM
Suggested Donation (sorry, no credit cards)
Adults – $5.00
Children (ages 3-11) – $2.00
Operating model trains, trains and more trains featuring creative operating layouts in most gauges! Bring your own trains (Lionel/HO/other) (R) to run on our tracks (with approval of participating Clubs)!  We are continuing our tradition in the Maple Valley area with the 25th Annual Operating Model Train Show in 2023. This is held in a full sized gymnasium and we fill it with all kinds of operating model trains and train related items.  Model Train Clubs from the Pacific Northwest make this a family-fun and very memorable event for all.  Enjoy trains of most scales, including an entire village, and trains made entirely of Legos (R). The creativity and ingenuity of the Club Members is truly amazing and a sight to behold by all ages.  It is in a very relaxed atmosphere where people can wander about and enjoy the trains at their own pace. There also will be trains with live steam engines (based on availability). There will be displays from the Black Diamond Museum depicting various aspects of our regional history.
To encourage the hobby of model railroading, if we have tracks that fit and with the approval of the Club participants, we will run any trains brought to the show. We will have old trains and new trains operating. One of the things we emphasize is talking with the train operators. Ask questions and find out how everything works.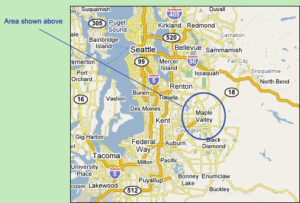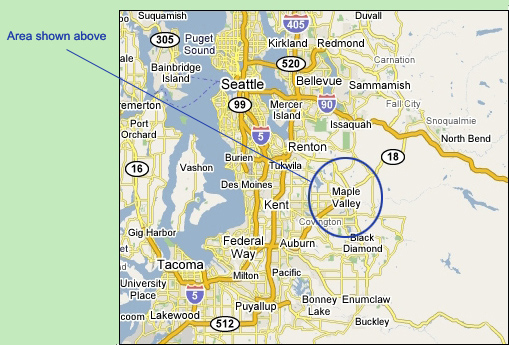 The GMVUAC serves the residents of unincorporated King County living in the Tahoma School District No. 409 (outside the city limits of Maple Valley).  Our Washington nonprofit corporation was established in 1977; we serve a population of 16,100 (2010 Census); and our service area is 116 sq mi.  Below is a map of our Service Area and the four Community Areas: