Updated Through October 2, 2018
Train Show Committee Members And Functions
Membership:
Chair: Steve Hiester
Members: LarKen Buchanan, Stephen Deutschman, Susan Harvey, Hendrik Haynes, and John Huson (community resident)
Mission:
Defines Council support requirements and recruits and implements activities necessary to conduct our annual Train Show at the Gracie Hansen Community Center in Ravensdale
NOTICE
The Annual Train Show sponsored by the GMVUAC is conducted annually on the third weekend of October and is open for all members of the public to attend.  However, PLEASE TAKE NOTE that by voluntarily entering this facility and Train Show exhibit that all individuals thereby consent and agree to their being individually and/or collectively photographed (either still or video) and their individual likenesses being displayed on or in association with the GMVUAC's official website with no compensation or rights reserved.  Read the Notice of Consent here:  GMVUAC Photography Consent Notice .  A shorter version flier advertising the 2018 Train Show for public posting and distribution may be viewed and downloaded here: train show flier-2018 .
Maple Valley Operating Model Train Show
Gracie Hansen Community Center
27132 SE Ravensdale Way
Ravensdale, WA
Plenty of free parking!
October 20-21, 2018
Saturday 10:00 AM – 5:00 PM
Sunday 10:00 AM – 4:00 PM
Suggested Donation
Adults – $5.00
Children (ages 3-11) – $2.00
Operating Model Trains, Trains and more Trains Featuring creative operating layouts in most gauges! Bring your own trains (Lionel/HO/other*) to run on our tracks! Participate in the LEGO contest and win your own LEGO prize!
We are continuing our tradition in the Maple Valley area with the 19th Annual Operating Model Train Show. This is held in a full sized gymnasium and we fill it with all kinds of operating model trains and train related items. It is in a very relaxed atmosphere where people can wander about and enjoy the trains at their own pace. There will be a variety of trains of most gauges shown operating at the show. There also will be trains with live steam engines. There will be displays from the Black Diamond Museum.
Besides door prizes and free catalogs and publications, there will be our annual LEGO train building contests. See our LEGO rules below for details.
We will have another table full of old model train magazines for the taking. We hope you take some home and enjoy the subject matter as well as the beautiful pictures. Some of them extend all the way back to the 1960s and they are just as good today as they were then.
To encourage the hobby of model railroading, if we have tracks that fit, we will run any trains brought to the show. We will have old trains and new trains operating. One of the things we emphasize is talking with the train operators. Ask questions and find out how everything works. We will also have hands-on experiences where children can actually run model trains themselves. There will be a table where children can build their own LEGO trains and run them. Young children will have the opportunity to play with Thomas trains. These have all been very popular activities.
---
Lego Rules 2018
Train Theme Building Contest
All entries must be built from your LEGO bricks.
Bring your entry to Gracie Hansen Community Center.
One prize will be awarded for best entry in each category. Entries will be judged on Saturday afternoon. All decisions of the judges will be final.
Category #1 – Best train, locomotive or station built by age 11 and under.
Category #2 – Best entry built by age 12-18.
Rules are as follows: All entrants must build a "railroad" oriented diorama (three dimensional miniature scene) 12″ x 24″ that contains anything the builder wants, but must include at least 5 of the following items (all made from LEGO bricks/parts of course):
1) locomotive;
2) train car;
3) passenger or freight station;
4) signal bridge;
5) pedestrian overpass;
6) track;
7) block signal;
8) auto or bus;
9) street car;
10) street lamp;
11) crossing gate;
12) switching tower.
The diorama should be built on a piece of 12″ x 24″ stiff cardboard, foam board, foam core or plywood. This base can be painted or left natural. The diorama should be viewable from all four sides although one side may be designated the "front". Everything except the base must be made from LEGO bricks/parts.
Note: Children who qualify for category #1 may elect to enter category #2 instead, but only one entry will be accepted per child.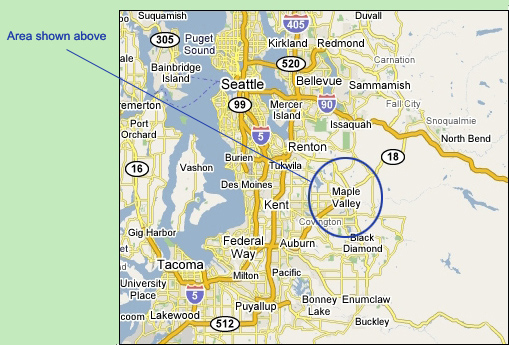 We serve the residents of unincorporated King County living in the Tahoma School District No. 409 (outside the city limits of Maple Valley -- below is a map of the GMVUAC Service Area and the four Community Areas):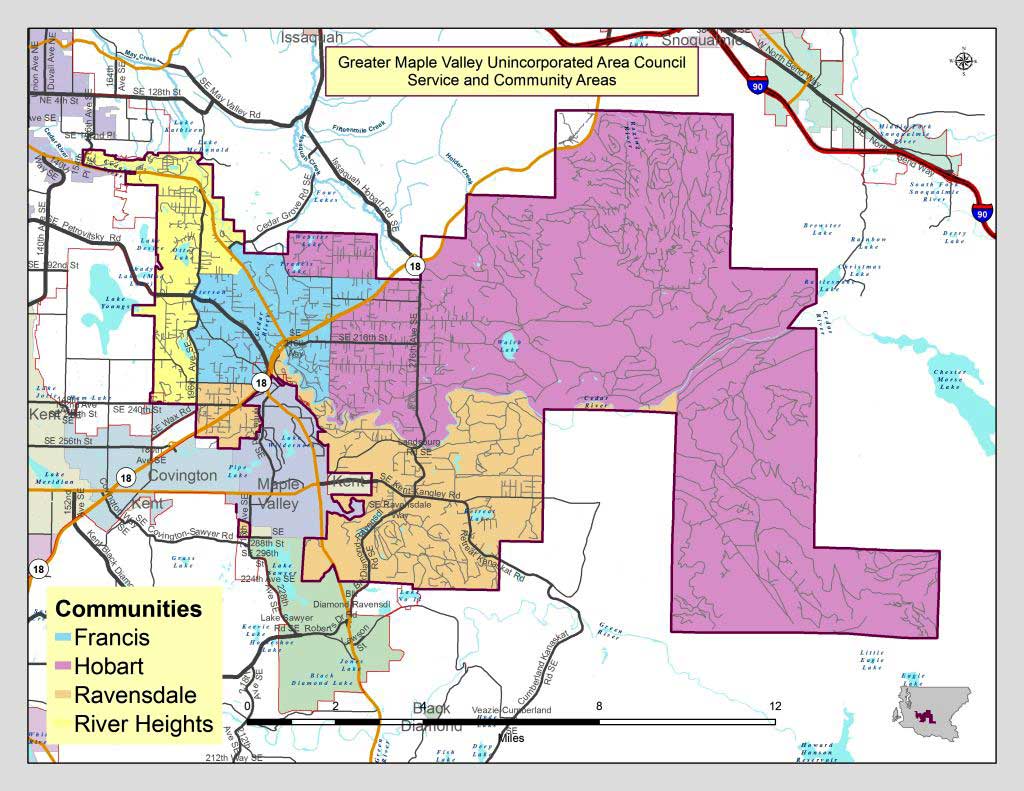 Service Area Stats
Established: 1977
Population: 16,100 (2010 Census)
Area: 116 sq mi