Vision Statement:
Our community's Rural Character will be supported by facilitating strong local ties and communication between the public, organizations, and government; promoting locally owned businesses and supporting quality education; protecting the environment, and maintaining landowners' rights and responsibilities; promoting controlled and well-planned growth with appropriate infrastructure; ensuring proper representation for rural interests and needs; and supporting the health and safety and the privacy of our vibrant community.
Puget Sound Regional Council VISION 2050 (p.40):
"Rural Areas are expected to retain important cultural, economic, and rural lifestyle opportunities in the region over the long term. They are not intended to be served with urban services or accommodate a significant amount of residential or employment growth. VISION 2050 calls for reduced rural population growth rates in all counties. Counties are encouraged to plan for even lower growth—where possible—than contained in the Regional Growth Strategy."
PLEASE NOTE: Links to external websites do not constitute any kind of endorsement or approval by the GMVUAC and its Members; users are appropriately cautioned as to placing any reliance on the content of and/or further links on such websites.
Rural Area Unincorporated Area Councils (UACs) and Associations (UAAs) and Organizations
The GMVUAC often works with these organizations on County-wide issues.
Drop us a line
Ask a question or express your interest:
GMVUAC
PO Box 111
Maple Valley WA 98038
** The Area Council will hold its next regular monthly meeting on Monday, June 7, 2021, from 7:00 PM to 9:30 PM. This will be another virtual meeting held through Zoom.  Our Guest Speaker will be KC Dept. of Local Services (DLS) Director, John Taylor, who will speak on the proposed KC Unincorporated Area Road Levy. See "Meetings" box for Agenda and Zoom info.
*****DUE TO CORONAVIRUS EMERGENCY, FACE-TO-FACE MEETINGS ARE CANCELLED AND WILL BE HELD REMOTELY UNTIL FURTHER NOTICE*****
** When meetings begin again they will be held on the first Monday of the month (2nd Monday in case of a Holiday) at 7 – 9:30 PM; Maple Valley Fire Station #81–SE corner of SE 231st St & SR-169.
** Meetings usually have Guest speakers from various local, county, or state agencies. Other local issues of importance also are discussed.
** Future topics and guest speakers will be posted as information becomes available.
read more
King County Roads Division has proposed an Unincorporated Road Levy Lid Lift , since funding is not keeping pace, resulting in forecasted reduction in service levels and growing unmet-need Revenues. The existing Roads Levy can only increase at 1% per year (plus new construction). Gas tax proceeds are flat and expected to decline in the long term. Needed expenditures are many due to aging infrastructure; increasing operating and capital costs; and inflation. The 6-year levy lid lift as a short-term funding option that, if approved by the King County Council would go to unincorporated area voters this November.
read more
Drop us a line
Ask a question or express your interest:
GMVUAC
PO Box 111
Maple Valley WA 98038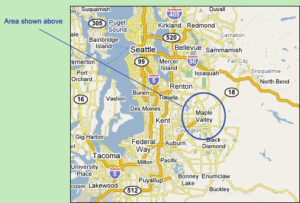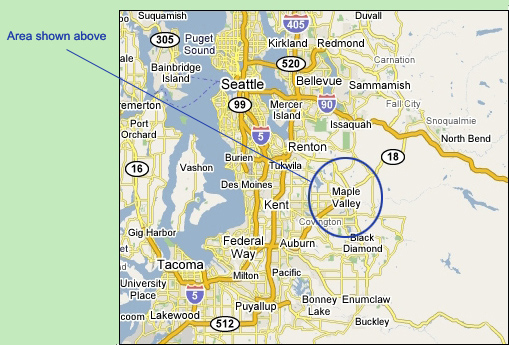 The GMVUAC serves the residents of unincorporated King County living in the Tahoma School District No. 409 (outside the city limits of Maple Valley).  Our Washington nonprofit corporation was established in 1977; we serve a population of 16,100 (2010 Census); and our service area is 116 sq mi.  Below is a map of our Service Area and the four Community Areas: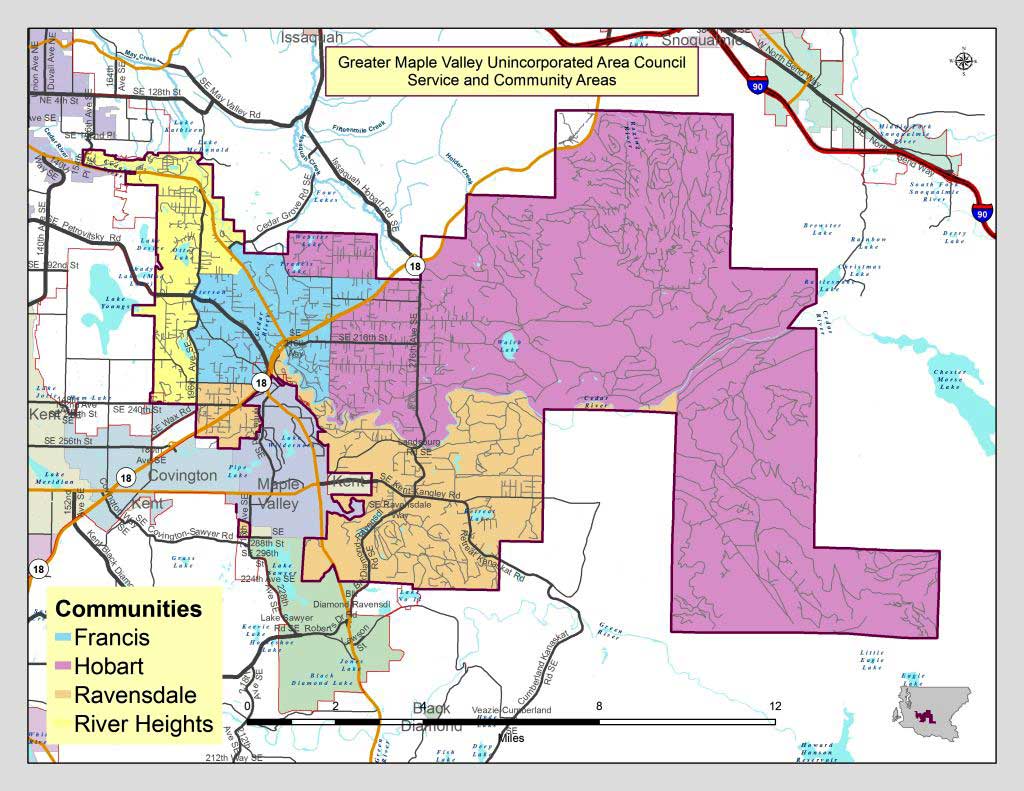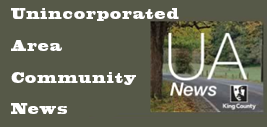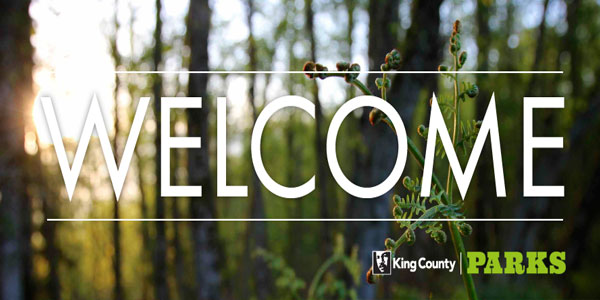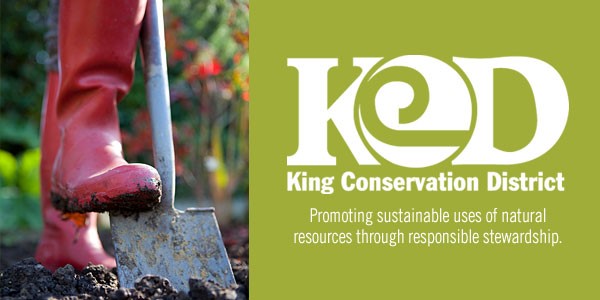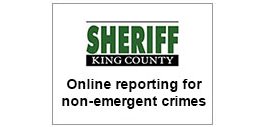 Hits: 121381