Vision Statement:
Our community's Rural Character will be supported by facilitating strong local ties and communication between the public, organizations, and government; promoting locally owned businesses and supporting quality education; protecting the environment, and maintaining landowners' rights and responsibilities; promoting controlled and well-planned growth with appropriate infrastructure; ensuring proper representation for rural interests and needs; and supporting the health and safety and the privacy of our vibrant community.
Puget Sound Regional Council VISION 2050 (p.40):
"Rural Areas are expected to retain important cultural, economic, and rural lifestyle opportunities in the region over the long term. They are not intended to be served with urban services or accommodate a significant amount of residential or employment growth. VISION 2050 calls for reduced rural population growth rates in all counties. Counties are encouraged to plan for even lower growth—where possible—than contained in the Regional Growth Strategy."
NOTE: Links to external websites do not constitute an endorsement by the GMVUAC.
Drop us a line
Ask a question or express your interest:
GMVUAC
PO Box 111
Maple Valley WA 98038
On Monday, February 6, 2023, the Area Council will hold its regular monthly meeting from 7 – 9:30 PM at the King County Sheriff's Precinct #3 at 22300 SE 231st St in Maple Valley. Our Guest Speakers will be the King County Department of Natural Resources & Parks, Solid Waste Division Director, Pat McLaughlin, and Andy Smith, Recycling and Environmental Services Manager. All monthly meetings are now hybrid—in-person and on Zoom. As the meeting date approaches, please see "GMVUAC Monthly Meetings" box for Agenda and Zoom information.
On Monday, January 9, 2023, the Area Council held its regular monthly meeting. Our Guest Speaker was Jacqueline Reid, King County Subarea Planner, who discussed the upcoming Greater Maple Valley/Cedar River (GMV/CR) Community Service Area (CSA) Subarea Plan. The Area Council territory makes up most of the GMV/CR CSA, so this will be the Subarea Plan for our local area. For an article summarizing the meeting please click on "* 1/23—Subarea Planning" in the 2023/2022 GMVUAC Monthly Meeting Articles box or go to the "Correspondence" drop-down menu and click on "Monthly Articles" and select "2023."
All monthly meetings are held on the first non-Holiday Monday of the month.
read more
On March 22, 2022, the King County Dept. of Natural Resources–Solid Waste Division issued a Final Environmental Impact Statement (FEIS) on its Cedar Hills Regional Landfill 2020 Site Development Plan and Facilities Relocation. The FEIS includes changes to the September 2020 Draft EIS (DEIS) based on new information learned, and comments received, as well as responses to comments submitted on the draft EIS. As part of State Environmental Policy Act (SEPA) requirements, the Final EIS contains a Responsiveness Summary (Appendix M), which provides the public with responses from the Solid Waste Division to all the questions and comments that were received during the public comment period for the Draft EIS. Please visit the project website to review the FEIS documents.
read more
Drop us a line
Ask a question or express your interest:
GMVUAC
PO Box 111
Maple Valley WA 98038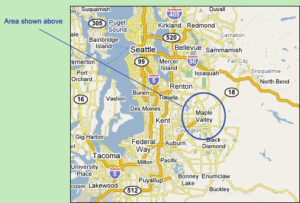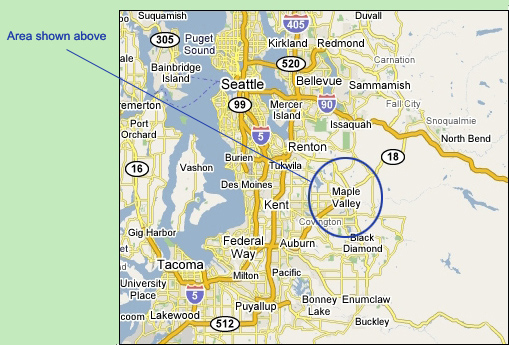 The GMVUAC serves the residents of unincorporated King County living in the Tahoma School District No. 409 (outside the city limits of Maple Valley).  Our Washington nonprofit corporation was established in 1977; we serve a population of 16,100 (2010 Census); and our service area is 116 sq mi.  Below is a map of our Service Area and the four Community Areas: