Vision Statement:
Our community's Rural Character will be supported by facilitating strong local ties and communication between the public, organizations, and government; promoting locally owned businesses and supporting quality education; protecting the environment, and maintaining landowners' rights and responsibilities; promoting controlled and well-planned growth with appropriate infrastructure; ensuring proper representation for rural interests and needs; and supporting the health and safety and the privacy of our vibrant community.
Puget Sound Regional Council VISION 2050 (p.40):
"Rural Areas are expected to retain important cultural, economic, and rural lifestyle opportunities in the region over the long term. They are not intended to be served with urban services or accommodate a significant amount of residential or employment growth. VISION 2050 calls for reduced rural population growth rates in all counties. Counties are encouraged to plan for even lower growth—where possible—than contained in the Regional Growth Strategy."
NOTE: Links to external websites do not constitute an endorsement by the GMVUAC.
Partner Rural Area Organizations
The GMVUAC often works with these organizations on County-wide planning and issues.
Drop us a line
Ask a question or express your interest:
GMVUAC
PO Box 111
Maple Valley WA 98038
On Monday, May 2, 2022, 7 – 9:30 PM, the Area Council held its regular monthly meeting at the Hobart Church. For an article that summarizes the meeting please see the "2021/2022 GMVUAC Newspaper Articles" box on this page. All monthly meetings are now hybrid: in-person and on Zoom. As the meeting date approaches, please see "GMVUAC Monthly Meetings" box for Agenda and Zoom info. All monthly meetings are held on the first non-Holiday Monday of the month.
read more
On April 6, 2022, the 2021 Countywide Planning Policies (CPPs) were ratified by the cities and towns in King County following the King County Council's approval in December 2021. The CPPs (https://kingcounty.gov/~/media/depts/executive/performance-strategy-budget/regional-planning/CPPs/2021-CPPs-Adopted-and-Ratified.ashx?la=en) provide a countywide vision and serve as the guiding principles and policies for all Comprehensive Planning in King County (County, City, and Special-Purpose District), as well as County and City Zoning Codes. Since mid 2020 the Area Council led a team of Rural Area UACs and UAAs (Unincorporated Area Associations) in a complete review of multiple drafts and preparation of detailed written comments.
read more
Drop us a line
Ask a question or express your interest:
GMVUAC
PO Box 111
Maple Valley WA 98038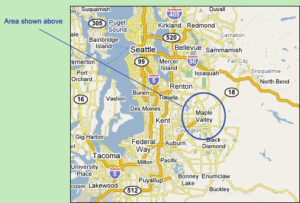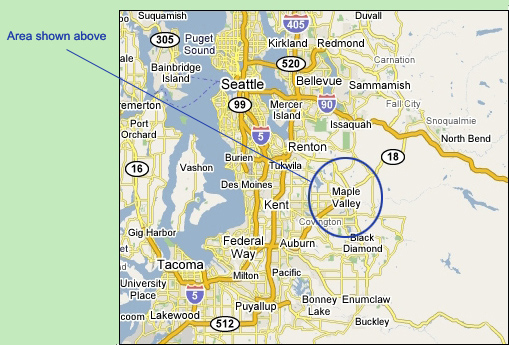 The GMVUAC serves the residents of unincorporated King County living in the Tahoma School District No. 409 (outside the city limits of Maple Valley).  Our Washington nonprofit corporation was established in 1977; we serve a population of 16,100 (2010 Census); and our service area is 116 sq mi.  Below is a map of our Service Area and the four Community Areas: