Vision Statement:
Our community's Rural Character will be supported by facilitating strong local ties and communication between the public, organizations, and government; promoting locally owned businesses and supporting quality education; protecting the environment, and maintaining landowners' rights and responsibilities; promoting controlled and well-planned growth with appropriate infrastructure; ensuring proper representation for rural interests and needs; and supporting the health and safety and the privacy of our vibrant community.
Calendar of Events
2018
July 2 Mtg
August 6 Mtg
September 10 Mtg
October 1 Mtg
November 5 Mtg
December 3 Mtg
The Area Council holds its monthly meeting at the Maple Valley Fire Station (SE corner of SE 231st St & SR-169)
Drop us a line
GMVUAC
PO Box 111
Maple Valley WA 98038
Quick Vote

Loading ...
National Night Out Against Crime is quickly approaching (Tuesday August 7th). Please contact the KCSO Precinct #3 with requested information. Please Read More for details.
King County Parks has issued its Draft Black Diamond Area Stewardship Plan for public review and comment until May 24, 2018. GMVUAC previously submitted comments on its review of an earlier draft in February 2017. DNRP has extended its deadline to June 11 for comments from GMVUAC. Please Read More for link to website.
Read More to find out about the progress of the Tahoma School District's choosing a new Superintendent.
King County River and Floodplain Management Section is hosting several public meetings on June 12 and 13 to discuss its Large Wood Program for various rivers and streams intended to promote flood risk reduction and fish habitat restoration. Please Read More for link to website.
KCC Member Reagan Dunn is presently conducting a 2018 Unincorporated Areas Survey. Read more and click on the link.
The federal Office of Surface Mining Reclamation and Enforcement has issued certain approvals to continue mining coal at the John Henry Mine. Please visit our Environment Committee webpage for more details.
The State Department of Ecology is implementing a public participation initiative regarding the Reserve Silica MTCA cleanup program. Further information at the Reserve Silica link in the Current Issues box.
The State Board of Health is commencing a review and amendment of the State Onsite Sewage Systems Rules. Your interest and participation is important.
King County is commencing work on the 2018 Comprehensive Plan Update — for details, go to: https://www.kingcounty.gov/council/CompPlan/2018compplan.aspx
CURRENT ISSUES: See Current Issues box for timely information regarding the Asphalt Facility, Reserve Silica, and much more.
READ MORE: For additional details and links.
read more
King County will hold its annual TOWN HALL/OPEN HOUSE on May 15, 2018, at the Hobart Community Church from 7 – 9 PM. In attendance are planned to be Council Member Reagan Dunn and the following officials and staff of various departments: PSB – Ivan Miller; DPER-Jim Chan and Ty Peterson; John Wilson, Assessor; DNRP- Pat McLaughlin – Solid Waste Division, Jon Hansen, Wes Chin-WLRD, Sarah Brandt, Parks; Harold Taniguchi – KCDOT and the new DLS; Alan Painter – Manager, CSA; and possibly staff of PH-SKC and DCHS. Presentations and discussions will address and answer your questions regarding the proposed new Department of Local Services and other topics of local interest and concern. Please attend — and Read More . . .
PLEASE TAKE IMMEDIATE NOTICE THAT the KC Executive has introduced legislation to create a new DEPARTMENT OF LOCAL SERVICES that will include the DPER together with various functions of the KCDOT, KCDNRP, and the PH-SKC On Site Septic Systems Program. Harold Taniguchi, Director of KC Transportation attended our April 2 meeting and provided more current information and answered many questions about the proposal to create this new Department to improve services to rural areas as well as the remaining urban unincorporated areas of King County. More discussion will be had at the King County Town Hall/Open House scheduled for May 15. Read More for updates.
read more
Calendar of Events
2018
The Area Council holds its monthly meeting at the Maple Valley fire station (SE corner of SE 231st St & SR-169)
Drop us a line
GMVUAC
PO Box 111
Maple Valley WA 98038
Quick Vote

Loading ...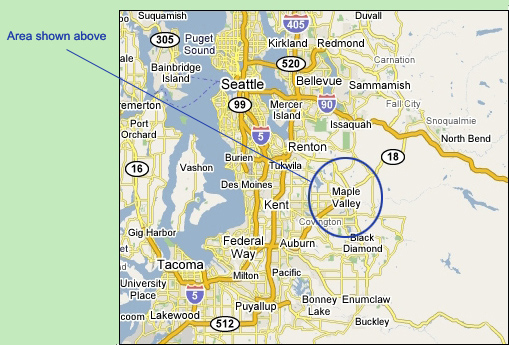 We serve those that live in the Tahoma School District, but not in the city limits of Maple Valley (below is a map of the GMVUAC Service Area and the four Community Areas):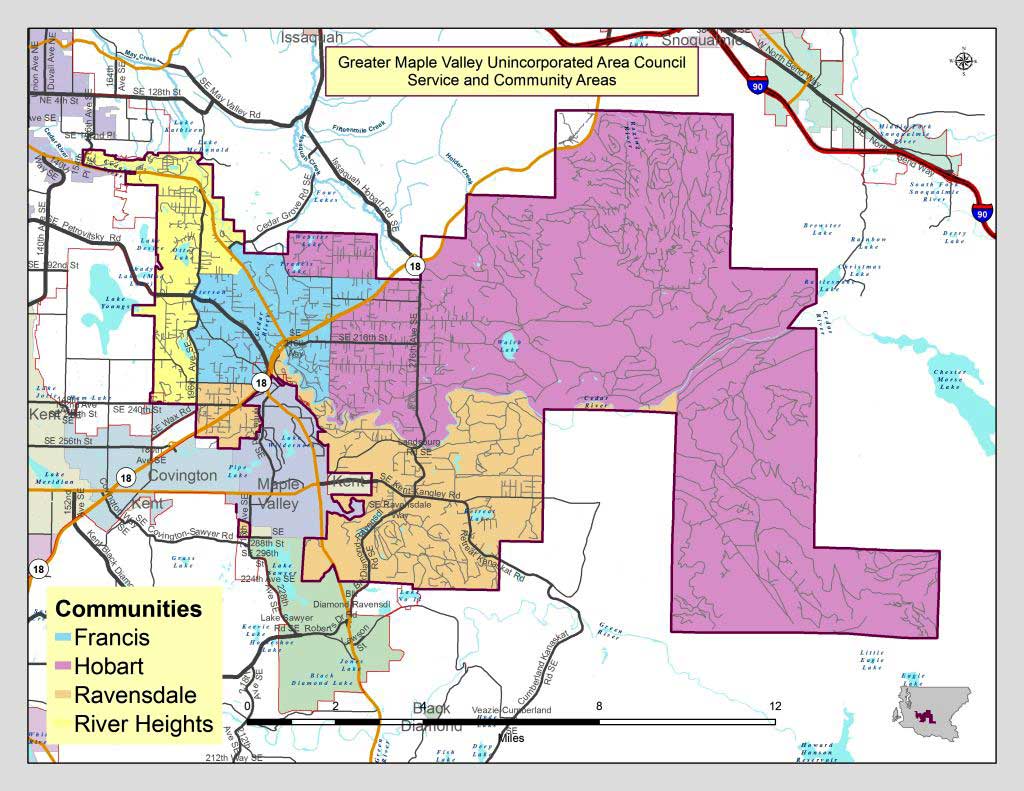 Service Area Stats
Established: 1977
Population: 16,100 (2010 Census)
Area: 116 sq mi