Growth Management Committee Members and Functions
Updated: November 30, 2018
Established: February 2006
Membership:
Chair: Peter Rimbos
Vice-Chair: Rhys Sterling
Members: Lorraine Blacklock, Luke Hansen, Hendrick Haynes, Ellie Hooman (non-GMVUAC member), Warren Iverson, and Mike Thompson
Mission: Seek to ensure the State Growth Management Act and all plans derived therefrom preserve the quality of life of Rural Area residents by monitoring potential code, policy, and land-use changes while engaging with policymakers.
Current Task Status: The Committee currently is working on the following issues: Elk Heights Gravel Operation; Maple Valley Market Building Site; Private Exempt Wells; Adult Beverage Ordinance; Neighborhood Business Zoning Code Changes; and Utility Right-of-Way (ROW) Tax–in addition to items listed under "Major Activities" below. For details and status see: Growth Management Committee Task Status–December 2018
Visit our Current Issues section to learn more about the following projects the GMVUAC, through the Growth Management Committee, is working on with and for Rural Area residents:
Asphalt Plant Asphalt Facility
Reserve Silica Reserve Silica
Major Activities:
King County Comprehensive Plan
The Committee is the Area Council's lead on all King County Comprehensive Plan (KCCP) efforts, including all major updates (proposed to be every 8 years, instead of every 4 years, with next update in 2024), as well as all annual updates. During KCCP major updates the entire document is reviewed and subject to change.
The Committee spearheaded an effort for the Area Council to work with other unincorporated area councils and associations to prepare and submit detailed comments to King County on proposed Ordinance 2018-0153 Comprehensive Planning and Subarea Planning Restructure to extend the timing between major KCCP updates and modify the Subarea Plan cycles. See Area Council correspondence (KCCP Process Changes–Cover Letter (08 30 2018) and KCCP Process Changes–Comments (08 30 2018)). On October 29, 2018, the King County Council approved the annual update to the King County Comprehensive Plan Update. The approved Update addressed many of the concerns expressed by the Area Council and other unincorporated area councils and associations, For more detailed information, please click on the following link: 2018 KC Comprehensive Plan Update
During annual KCCP updates a Docket Item process is used whereby "minor" changes can be proposed. The committee prepared and the full Area Council approved and submitted a set of comments on a 2018 Docket Item request to rezone to Industrial land along SR-169 and the Cedar River not far from Cedar Grove Rd: D.I. #4 Comments
Other Activities:
The Committee has led the following efforts for the Area Council:
Adult Beverage Ordinance – Combined Rural Area UAC/Association Cover Letter (2018)
Adult Beverage Ordinance – Combined Rural Area UAC/Association Comments (2018)
PSRC VISION 2050 (2018)
King County Sammamish Valley Wine & Beverage Study (2017)
Reserve Silica Land Segregation, Rezone, & Water Banking Applications (2017)
Asphalt Facility (2017)
King County Comprehensive Plan Updates (2016, 2012, 2008, & 2004)
Marijuana Growing and Processing Operations (2016 & 2015)
Isolated Industrial Zones in Rural Area (2014)
Urban-Serving Facilities in Rural Area (2014 & 2013)
Covington Master-Planned Development (2014 & 2013)
Enumclaw-Tahoma School Districts Boundary (2013)
School Siting Legislation (2012)
Pacific Raceways (2012 & 2011)
Black Diamond Master-Planned Developments (2011-1, 2011-2, 2011-3, & 2010)
King County Code Amendments (2010)
[For more information on any of these efforts, please visit the Letters page under the Correspondence tab.]
External Links (see also GMVUAC King County and Links webpages): Links to key agency sites, planning documents, and reports of interest.
King County (KC):
KC Department of Permitting and Environmental Review (DPER)
KC Comprehensive Plan (KCCP)
KC Code
Countywide Planning Policies
Growth Management Planning Council (GMPC)
Regional:
Puget Sound Regional Council (PSRC)
VISION 2040
VISION 2050
State:
WA Department of Commerce (DOC) [Comprehensive Planning Guidelines]
Growth Management Act (GMA)–RCW 36.70A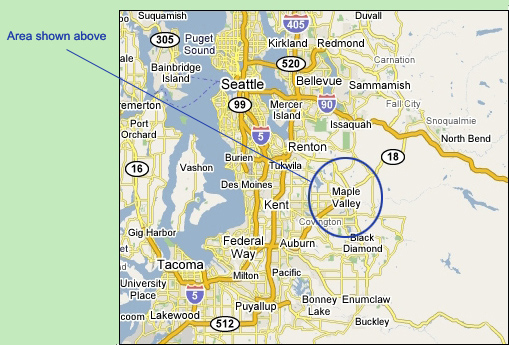 The GMVUAC serves the residents of unincorporated King County living in the Tahoma School District No. 409 (outside the city limits of Maple Valley).  Our Washington nonprofit corporation was established in 1977; we serve a population of 16,100 (2010 Census); and our service area is 116 sq mi.  Below is a map of our Service Area and the four Community Areas: